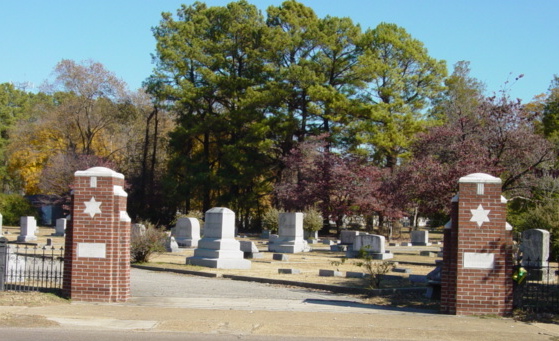 B'nai Israel Cemetery dates from 1896 and is located on Hollywood Drive (adjacent to Hollywood Cemetery). Burials from an earlier cemetery established in 1873 were moved here. (Click here for cemetery history.)

Sam Baum, a member of the congregation, recorded much of the history of Jackson's Jewish population. He was superintendent of the cemetery from 1911 to 1962 and was memorialized with a marble inscription on the right brick entrance column.
If you have questions about B'nai Israel Cemetery, please contact Joel Newman.
Donations: Checks should be made payable to B'nai Israel Cemetery Fund and should be mailed to Congregation B'nai Israel; Attn: David Cohen; P.O. Box 10906; Jackson, TN 38308.
For a listing of those interred in the cemetery and photos of each headstone (compiled and photographed by Lynn Franklin), see http://freepages.genealogy.rootsweb.ancestry.com/~ssjdb/JacksonTN.htm. Also see Find A Grave for a listing and photos.