"The world is sustained by three things:
Torah, Worship, & Loving Deeds."
~ Ethics of the Fathers 1:2

Congregation B'nai Israel holds an in-person Shabbat Service every Friday  evening absent unforeseen circumstances. Services begin at 6:00 p.m. when led by a member of the congregation. Please email us at bnai.israel.jackson@gmail.com or subscribe to our electronic newsletter, L'Chaim Jackson, for more information.
Please click here to subscribe to our electronic newsletter.

Shalom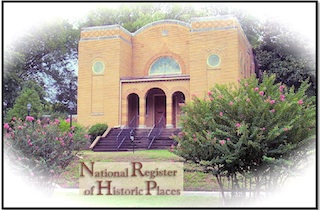 In Jackson, Tennessee, pride abounds in our southerness and Judaism. We are a community in all aspects of the word. This is a place where everyone knows each other's name and Shabbat dinner is shared as one family.
For over 130 years, the congregation has continued its vital role of weaving our rich culture throughout this community. Our beautiful, stately structure (renovated in 2014) has graced the corner of West Grand and Campbell streets since 1941. We are small, welcoming Reform congregation of about 30 families overflowing with a rich history dating back to 1885.
Shabbat services are Friday evening at 6:00 p.m. in the beautiful sanctuary, which was refurbished in 2014. These services are a treat, simply in their variety, as they are led by members of the congregation. In true Jewish and southern tradition, this congregation combines faith and community in every aspect. Following Shabbat services, the congregation joins together for a friendly informal dinner at a local restaurant.
If you are new to the area, contemplating a move to Jackson/West Tennessee, or already live in the area, we invite you to join us for services and to become a part of our family. All are welcome. Please email us if you would like to be added as a subscriber to our monthly electronic newsletter, L'Chaim Jackson, or would like to have additional information.
Our street address is 401 West Grand, Jackson, Tennessee, and our mailing address is P.O. Box 10906, Jackson, Tennessee 38308.

Our Mission Statement

We are a community of people searching for spiritual connection through sacred action within the framework of an open-minded, non-judgmental Reform Judaism. Our tent is broad and open, welcoming all kinds and styles of families and individuals. We are committed to life-long Jewish learning through questioning and intellectual inquiry; warm, meaningful and participatory worship; and relationship experiences that can create true friendships.