"The world is sustained by three things:
Torah, Worship, & Loving Deeds."
~ Ethics of the Fathers 1:2

UPCOMING EVENTS/HOLIDAYS
KOSHER BBQ Competition being held in Memphis on September 15th
Rosh Hashanah: Sunday, September 29 – Oct 1
September 29 – (Erev Rosh Hashanah) 7:00 p.m. Evening Service, 8:45 p.m. – Conclusion & Oneg     
Monday, September 30th, 10:00 a.m. – Morning Service, 12:30 p.m. – Tashlich Service  at Campbell Lake        
Yom Kippur -Tuesday-Wednesday, October 8-9 w/Rabbi-Cantor John Kaplan
Sukkot – Sunday-Sunday, October 13-20

Services begin at 6:00 p.m. when led by a member of the congregation. When Rabbi-Cantor Kaplan is here, services begin at 7:00 p.m. Please email us for more information.
Please click here to subscribe to our Email

Schedule Of Services:
Friday, September 13 – 6:00 p.m. – Service Leader: Hannah Clayton
Friday, September 20 – 6:00 p.m. – Service Leader: Joel Newman
Friday, September 27 – 6:00 p.m. – Service Leader: Cindy Rubin
Rosh Hashanah: Sunday, September 29 – Oct 1                     
September 29 – (Erev Rosh Hashanah) 7:00 p.m. Evening Service, 8:45 p.m. – Conclusion & Oneg     
 Monday, September 30th, 10:00 a.m. – Morning Service, 12:30 p.m. – Tashlich Service  at Campbell Lake        
Friday, October 4 – 6:00 p.m. – Service Leader: David Cohen
✡Yom Kippur -Tuesday, October 8 – 7:00 p.m. – Kol Nidre W/Rabbi-Cantor John Kaplan
✡Yom Kippur-Wednesday, October 9 w/Rabbi-Cantor John Kaplan  10:00 a.m. – Morning Service 
 2:30 p.m. – Study Hour 
 3:30 p.m. – Service of Renewal
 4:15 p.m. – Memorial Service
 5:30 p.m. – Neilah Service
 6:30 p.m. – Break the Fast Potluck 
Friday, October 11 – 6:00 p.m. – Service Leaders: Clayton Family
Friday, October 18 – 6:00 p.m. – Service Leader: David Cohen
Friday, October 25 – 6:00 p.m. – Service Leader: Joel Newman
Shalom Y'all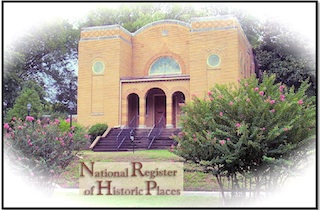 In Jackson, Tennessee, pride abounds in our southerness and Judaism. We are a community in all aspects of the word. This is a place where everyone knows each other's name and Shabbat dinner is shared as one family.
For over 130 years, the congregation has continued its vital role of weaving our rich culture throughout this community. Our beautiful, stately structure (renovated in 2014) has graced the corner of West Grand and Campbell streets since 1941. We are small, welcoming Reform congregation of about 30 families overflowing with a rich history dating back to 1885.
Shabbat services are Friday evening at 6:00 p.m. in the beautiful sanctuary, which was refurbished in 2014. These services are a treat, simply in their variety, as they are led by members of the congregation. In true Jewish and southern tradition, this congregation combines faith and community in every aspect. Following Shabbat services, the congregation joins together for a friendly informal dinner at a local restaurant.
Rabbi-Cantor John M. Kaplan (Cantor Emeritus – Temple Israel, Memphis) comes to Jackson from September-June, to conduct services once a month beginning at 7:00 p.m. Friday evening. His responsibilities include preparing B'nai Mitzvah students, as well as counseling members on personal, spiritual, and ethical matters. Following Rabbi-Cantor Kaplan's Friday evening service, we celebrate Shabbat with an Oneg Shabbat. He also conducts a Shabbat morning Torah Talk and a Saturday evening dinner and family program ending with an intimate Havdalah Service.

If you are new to the area, contemplating a move to Jackson/West Tennessee, or already live in the area, we invite you to join us for services and to become a part of our family. All are welcome. Please email us if you would like to be added to our B'nai Israel Weekly email or would like to have additional information.
Our street address is 401 West Grand, Jackson, Tennessee, and our mailing address is P.O. Box 10906, Jackson, Tennessee 38308.

Our Mission Statement

We are a community of people searching for spiritual connection through sacred action within the framework of an open-minded, non-judgmental Reform Judaism. Our tent is broad and open, welcoming all kinds and styles of families and individuals. We are committed to life-long Jewish learning through questioning and intellectual inquiry; warm, meaningful and participatory worship; and relationship experiences that can create true friendships.